Climate Change Day
This Saturday, BSQ held its first Climate Emergency Day. We all know about the way in which our actions and behaviours are affecting the world around us and we also know many ways in which to make a difference by changing what we eat, wear, buy, drive and throw away. So, all the BSQ students took part in activities designed to secure some of that knowledge into action.
​I was absolutely amazed by the knowledge and insight our students of all ages brought to the day. From a puppet show that highlighted the way in which bees are dying but are so important to us, to the creation of a food chain linked to strings that can be cut to show the devastating impact of losing just one link. There were children writing to the mayor about light pollution; children making new clothes out of old, children lighting a house with LED powered by the wind, children watching ice melt around plasticine polar bears, children trying to survive in a plastic-filled pool and we were also visited by Alan Hesse who support students to play his climate change board game. Alan is the guardian of Polo the Bear and author of the book about this character as he journeys around the world to find out about the impact of climate change.
Huge thanks to everyone who was part of this day but particularly to the Climate Change Committee and the students who have captured it all on film. We now start our work to find sustainable, tangible ways to further develop our work here at BSQ.
Parent Survey
Once again, many thanks to all the many parents who took time to respond to the parent survey in December – a very busy time for everybody. I have now had time to read and consider all the feedback, share with the PA and put together a draft plan for our actions moving forward.

So, it remains clear that, despite the high levels of satisfaction with our teaching, curriculum, teachers, care for the students, leadership and willingness of parents to recommend BSQ to other families, there are still concerns about the facilities and the lack of a range of after-school activities.

Developing our after school provision is certainly something that we have started exploring this year and with four football clubs currently running there is certainly something for everyone there. See below for the next steps.

In the parent survey we saw a 1% increase in newsletter reading and a 3% increase in social media use to keep in touch. Every week we share information with parents in a range of ways and I know that there are many families who are concerned about communication but have not always connected with our newsletter or social media pages. Let's all encourage each other to do that this term!
After School Clubs
In response to parent wishes, and with thanks to the social commission of the PA, we have been working to develop an after school music provision whereby students would learn to play the violin and be a part of the BSQ String Band. In order to ascertain whether there are sufficient numbers to support this programme, we need to gather your interest.
Terms:
Each student would need a starter violin of their own to take home and practise
The cost for the sessions would be $100 per month per student and this would cover 16 hours of tuition a month (2 hours, twice a week)
The provision will be hosted by Dina Roque, the Founder and Head of the Escuela Saraswati in Sangolquí, and her team and we are very happy with the proposals she has made. If you would like your child or children to be a part of this provision, then please contact Santiago Salazar on ssalazar@britishschoolquito.edu.ec to register your intention to attend. We need 20 children to make the project viable and the deadline for registering is Friday January 24.
TEDx
​Stay tuned to know more about our speakers. Our focus will be on Education, Innovation, Diversity and Wellbeing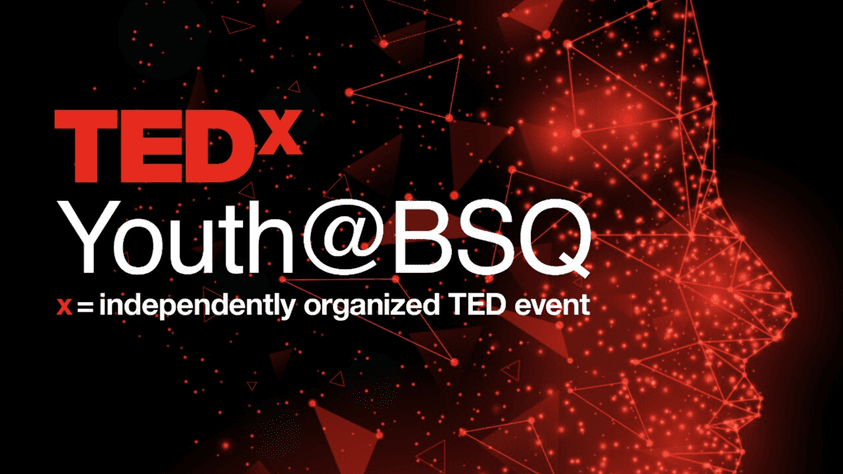 Driving Change 2020 – Save the Date and volunteer
So, you all have the dates of March 20th and 21st saved to attend the Women and Leadership conference here at BSQ. Now is your opportunity to volunteer! We are looking for potential stall holders, entertainers, commission members, sponsors etc for the Friday evening Welcome event. We already have our keynote speaker for the evening and plan to host an inclusive, vibrant, festival-style celebration of making connections that matter. Please email me directly on enewman@britishschoolquito.edu.ec if you would like to be a part of the event.
​From the PA
Dear BSQ Community,
This year the Christmas campaign was worked together between the PA and the secondary school CAS project, which has been working with two specific foundations that are "Hogar para sus Niños" and the "Beyond Lagartococha" project. The campaign consisted of donating books to make a reading corner in the "Casa Hogar", clothes used in good condition for "Beyond Lagartococha" and $ 5.00 for each BSQ student to make purchases of a specific list of needs for each foundation.
In total, $ 1810.00 was raised and so far $ 601.06 has been invested in various items such as school supplies, personal hygiene and household cleaning, and 2 first aid kits. With the support of all of you, 453 books were achieved. We have a balance in favor to continue helping the Foundations continuously and specifically in the coming months.
On Friday, January 17, the delivery was made at the "Casa Hogar" and on February 23, the students in charge of the "Beyond Lagartococha" project will visit the area and deliver the donations. We want to thank the entire BSQ community for all generosity and support during the campaign.
From the Staff and Students
Continuing with our teachers and their stories about learning in the classroom this period. This week we have Ms. Belén Arellano from Secondary and Ms. Anna Vasilokonstantaki and Ms. Antonella Coronel from Primary.​
Ms. María Belén Arellano – Art Teacher
Cave Art
"This term in art we have been looking at Cave art. We have learned about pictographs, petroglyphs and important manifestations of cave art like Lascaux, France. After learning about cave art, we made our own pictograph and petroglyph!"
Breck Hoskins, Y7 student.
Art is a way of recording history and inhabiting the world. Art gives us a door to understand the human being and our way of life in specific contexts.
In the area of ​​art we try to understand the human being through the evidence of artistic manifestations that have remained over time. We take as inspiration those images to communicate our own ideas and intentions.
The last months with Year 7 we have worked the unit of Cave Art. In this unit the students answered some questions such as: who created these majestic works on the caves walls? How did early humans get these works to last over time? What was the purpose for doing those drawings and reliefs?
Finally, the students made their own rock art with recycled paper and natural pigments such as coffee and coal.
Ms. Anna Vasilokonstantaki
Nursery A Teacher

I could not think of a better, fresher start of the year for Nursery A than the past couple of weeks. Children were able to return to their daily, school routine and adapt again to our busy, exciting though schedule. Thank you to all parents for bringing back students' water bottles and hats.
Starting with a different focus this time, that of the world around us, we are exploring 'The Very Hungry Caterpillar', concentrating on insects and plants, fruits and vegetables as well as our eating habits. We will contribute to the school's Climate Change day by planting some seeds and observing how they grow day by day. As you can see in the pictures below, we started painting our caterpillars and talking about the parts of their body. Did you know that they are usually green and have a red head? We used our index fingers to paint this time. Balloons we also used in order to 'build' the caterpillars' bodies.
This term, we will also focus more on recognising, tracing and then writing independently our names. Children will practice their handwriting and fine motor skills via a range of daily activities. It is going to be a very exciting term for Nursery A with more interactive and multisensory learning happening. January is also the month of our school trip to a beautiful garden, looking for caterpillars, flowers and small plants. More information to follow soon – stay tuned.
Ms. Antonella Coronel – Head of EYFS
This past week in Reception, children have been looking at Numbers and counting all the way up to 20. For this the children did an activity where they counted the spots on the domino pieces and placed the added amount in a number line. With this wonderful activity the children worked on number-quantity, number recognition, counting and addition. This opened a window for children to learn about how number works and to understand that different quantities can add up to the same amount for example 3+7=10 and 5+5 also equals 10. By working in groups the children gained a lot of experience in controlling emotions, taking turns and sharing.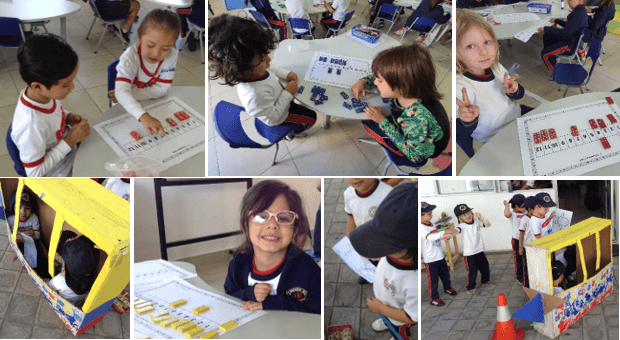 ​In EYFS we work with 'continuous provision' which allows the students to develop a variety of basic skills. These includes social communication and language, managing feelings and behaviors, understanding of the world and physical skills just to name a few. Here is a great example of our reception team teaching students through continuous provision. In the pictures we can observe children with plane tickets that they made themselves waiting for the airplane to land in a whole new country they then explored. This was all achieved by using a great combination of imagination, creativity and recycled materials.
Both activities show from the children's faces the great time they are having learning through play.
​Burns Night - January 25th
Burns night is a traditional Scottish celebration of the life of the national bard (poet) Robert Burns. This year a celebration supper will be held at St. Andrews Gastropub in Cumbaya and you can find the details here. We are in partnership with the St. Andrews management team to support a successful British event and hope to see you there. You can find out all the information on the website here: https://standrewsgastropub.com
January 21st - Parents information meeting for Duke of Edinburgh's International Award - Bronze Level (Year 10 students) at 3.30pm in the Library.
​January 25th - Burns Night
February 11th – IB Open Day
March 20th – 21st– Driving Change 2020
Emma Newman
​Principal
Being BSQ – Primary Update
I hope your child returned from the Climate Change Day on Saturday enthused and eager to make small changes in their day-to-day lives that would reduce their impact on the environment and support the work we are doing in school. As adults we often rely on the younger generation to lead on issues like this, although we obviously also have a large part to play in this matter.
​As discussed last week, we use our school values as a driver for many of the learning opportunities we undertake here and explicitly refer to them when speaking with the students about their progress and personal development. As part of this, a group of students spent some time last term to create a set of guidelines for our values, expanding on each statement and suggesting ways we could incorporate them more into our daily lives. This week I would like to explore our first school value and specifically the word 'care':
We live and learn together with respect and care for each other.
Our students expanded on this concept of care by encouraging us all to:
have a responsibility to care for ourselves, each other and our wider community
be responsible for taking care of our campus and protecting our environment.
make sure that our school is a safe, open and diverse environment where everyone feels included.
consider and support the feelings and well-being of others without discrimination.
This concept obviously relates directly to our learning about caring for our environment, both on a local scale (our school, classroom, home, bedroom etc) to a more global one (not wasting resources, supporting initiatives etc). It also touches on the international nature of our school, with students and adults from all around the world coming together in one caring community.
Many of you will have seen the reports about there being a long period of hot, sunny weather here in Quito and the new Ministry of Education guidelines for schools. Please do ensure that your child brings a hat to school every day (preferably leaving it at school all week, to be washed at the weekend) and applies sunscreen in the morning before coming to school. We do also have a supply of sunscreen in each class to reapply during the day. We have a detailed plan in place at school to ensure that all students are protected from the sun, including closing certain areas of the school at break and lunchtimes, moving PE lessons inside when necessary and only allowing students to swim if they have the correct kit (long-sleeved sun top, hat and sunscreen applied).
Star of the Week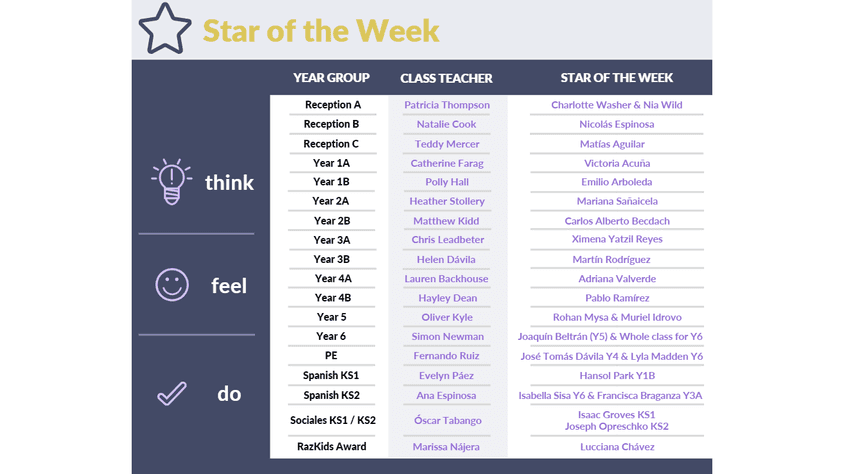 Marcus Madden
Head of Primary
Being BSQ – Secondary Update
Learning for Living
Last Saturday at BSQ was fabulous. Groups of students, led by passionate teachers and guests, worked through activities and projects designed to help develop our collective understanding of the challenges facing this planet we call home so that we might be better positioned to act in an informed and determined manner to secure its long-term health.
Days like these are what education is about, and it made me very proud, and hopeful for our future, to see so many students turn out and engage fully. After a week of exams, with a focus on grades, the fact that so many understood the importance of real, active, applied learning reaffirmed my belief that we are getting education right.
I was particularly delighted to see so many Year 13 and Year 11 students not just attending, but really applying themselves, getting involved, and helping others. In this important exam year, it would be easy for a student to convince him/herself that subjects, exams, and grades are everything. That so many of our fine young men and women, despite the very real pressures that they are under to 'achieve', clearly understand that the real purpose of an education is learning for life, makes me very happy. Thank you to those students, and to you, their parents, for supporting them.
Written Reports
Having said all that, Partial 3 and Quimestre 1 grades will be sent home at the end of this coming week. More important than the grades therein, though, are the comments. Each teacher has written a comment for each student, explaining how the grade shown was achieved. Please read these comments. And more importantly still, each report for each subject comes with a target, briefly stating the thing a student needs to focus on the most in order to improve. Please read these carefully, and discuss with your child how they intend to do this, and how you might be able to help.
Jim Wild
Head of Secondary
From the BSQ Counselling Team