The Secondary School is side-by-side with the Primary School.
We create a truly 'middle school' with dynamic setting and teaching through Years 6, 7 and 8. 
The campus consists of purpose built classrooms and specialist-facilities, including space for learning beyond the classroom. The reputation and quality of the British School Quito means we attract highly qualified specialist UK and Ecuadorian staff for all subject areas.
Specialist science laboratories complement the main classrooms, along with a Creative Arts Studio, Visual Art Studio, Library and ICT facilities. The IB Diploma Students are housed is a separate IB Centre.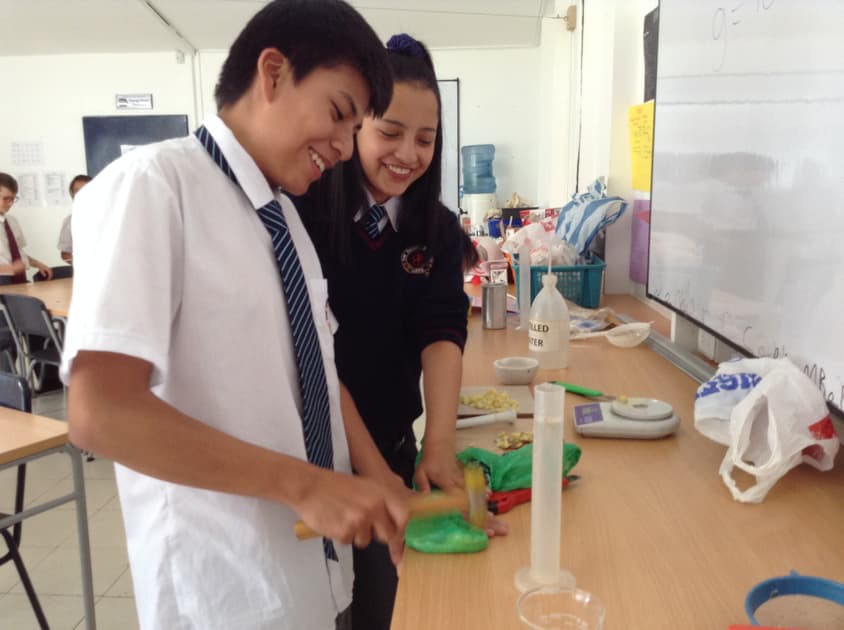 The use of technology is encouraged at the British School Quito, with a Bring Your Own Device policy from Year 9 upwards.
Enrichment activities are important in school life and this is reflected in the campus, with tennis and basketball courts, a swimming pool and sports fields. Students are also actively encouraged to learn beyond the classroom with regular education visits in and around Quito. BSQ is authorised to deliver the Duke of Edinburgh's International Award and it has successful participants at all levels.
Secondary Curriculum
Key Stage 3 (KS3) Years 7-9

– Ages 11 – 13
At Key Stage 3 our academic programme is based on the English National Curriculum; delivered in English and adapted to take into account our international context and local circumstances.
A broad and balanced range of subjects are studied:
English & Spanish
Geography, History & Sociales
Mathematics
The Sciences
Art, Music, Drama and Physical Education
In all subjects, students are taught in mixed ability groups; however, there is provision for students with learning difficulties, where students are supported either individually or in small groups by our Student Support Department.
Key Stage 3 is the foundation for success in the important later years of Secondary. Our provision, therefore, ensures students have the prerequisite skills and knowledge to succeed. In addition, we develop their skills of independence and application of their learning as these are the cornerstones to success in all they will go on to do. Students also undertake a programme of personal development in our bespoke Life and Learning Skills lessons. The Life Skills programme aims to further enhance the personal and social development of our students; preparing them for the challenges of the world around them. In Learning skills students develop their skills of critical thinking, organisation and ICT to equip them with the skills needed to succeed in all areas of the curriculum.
Key Stage 4 & Cambridge IGCSE Years 10 & 11

– Ages 13 – 16
During Year 9, students are guided into choosing a balanced range of subjects for their Cambridge International General Certificate of Secondary Education (IGCSE) courses in Years 10 and 11. 
The IGCSE is a rigorous qualification from Cambridge University in the United Kingdom for students studying in Years 10 and 11. It is a globally recognised qualification and excellent preparation for the International Baccalaureate Diploma Programme.
All students take a common core of subjects and then choose one option from the social sciences and the arts to ensure they have a broad and balanced curriculum:
| | | |
| --- | --- | --- |
| Core | Social Sciences | Arts |
| English Language | Geography | Art |
| English Literature | History | Music |
| Mathematics | | Physical Education |
| Biology | | |
| Chemistry | | |
| Physics | | |
| Spanish | | |
IGCSE courses generally contain a combination of coursework and external final examinations. Students will be set in some subjects and mixed ability in most, support will be provided where needed by the Student Support Department.

Key Stage 4 is an important stepping stone in the Secondary curriculum. It provides students with their first set of qualifications that can be used to support their future pursuits. It also is the foundation for success in the IB and therefore their next steps after BSQ. Students continue with their programme of personal development in their Life and Learning Skills lessons during KS4. The curriculum is progressive and therefore they will work on areas of development relevant to their age group. In addition, to support the school's commitment to a holistic curriculum all students in Year 10 are given the opportunity to complete the Duke of Edinburgh Award. This internationally recognised award helps students develop varied skills and their confidence in settings outside of the classroom.
For more information on the Cambridge IGCSE curriculum please click here to visit the official Cambridge IGCSE webpage.
International Baccalaureate Diploma Programme Years 12 & 13

– Ages 16 – 18
Year 12 and 13 are perhaps the most intensive and demanding period of education that any individual undergoes and in a highly competitive world we recognise that our students need strong academic results to increase their opportunities and choices for the future.
At the British School Quito students continue to receive a broad and holistic education through the International Baccalaureate Programme (IBDP). The IBDP is a highly regarded programme, recognised for its rigour, a commitment to quality and excellent preparation for both university and wider life. The British School Quito has been delivering this programme for well over a decade and we are proud of our students' academic achievements and the young adults that they have become.
For more information on the International Baccalaureate curriculum please click here to visit the official IBDP webpage.