Parent Survey
As you know, we are always keen to listen to our families and work to secure the positive changes requested and celebrate all our achievements together. Once again, this year I will be asking you to support us by completing or parent survey. This survey is completed by all the Orbital families across the world and I am always proud to be able to celebrate our positive outcomes and plan our next steps based on your responses. Please do take the time to complete the survey by December 10th.
Exciting adventures.
Last week we were able to offer two great experiences to our students in the senior school. Mr Ashfield took a group of students to Americano for a Model United Nations conference and the BSQ Duke of Edinburgh Silver expedition team conquered their first challenges over 3 days and two nights. Our thanks to Mr Dobson, Mrs Madden and Mr Kidd for supporting them.
Being at BSQ is all about building confidence and strength of character and when students are able to face challenges with the support of their friends, parents and teachers, then the success they experience is shared by everyone. As parents it is sometimes difficult to let our children venture off on their own and experience difficult conditions but with the right preparation they will always flourish. Thank you to those parents who have trusted us to run these activities and enable our students to grow through determination and ambition – two of our BSQ values.
Drive-through
Firstly, thank you to all the parents who use the drive-through and road outside so carefully and respectfully. Just some reminders, because if we all follow the guidelines then the drive-through will be really effective, smooth and trouble-free.
This is a crossing and should never be covered by a car as it is a safe space for children to use.
The only cars that can drive directly into the drive-through are those coming from Los Chillos direction – respecting this will ensure that traffic flows smoothly.
Children should not be leaving the campus without an adult – please do not ask your children to meet you outside as the purpose of this request is to ensure that there is a seamless transition from teacher to parent.
If you wish to talk to a teacher, then please park your car and walk in so that the traffic is not delayed.
TEDxYouth@BSQ
A boundary-breaking first for BSQ! TED Talks are viewed 3.3 million times per day across the world. Did you know that no other high school in Ecuador has organized a TEDx event before... Until Now! Stay tuned and follow our social media channels for more information about this event.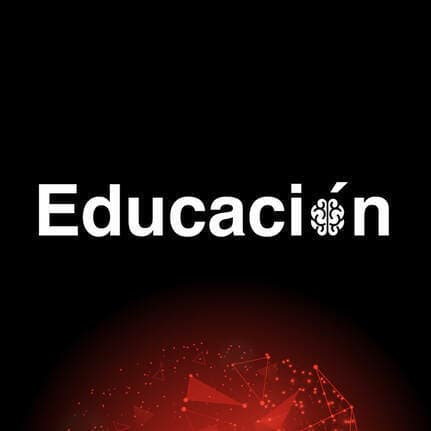 Exciting Orbital Exchange Opportunity - alert for deadline next week.
As we mentioned last week, we are excited to announce that in 2020 we will be participating in the first cultural trip to visit Moscow - another Orbital base. If you are interested in participating in this visit it will be open to students from years 5 - 10 and the dates are between June 14th and June 20th 2020. Please contact azambrano@britishschoolquito.edu.ec to register your interest by December 2nd so that we can communicate with our colleagues in Russia and set up a meeting to share more information.
Our team- the Early Years Reception team
This week we are gladly to present you the Reception Team, this is our biggest teacher´s team in the school and they are now sharing with us their thoughts about being part of such a great community, The BSQ community. Our reception teachers are always compromised in the development and growth of their pupils in every possible way.

From the Staff and Students
Continuing with our teachers and their stories about learning in the classroom this period. This week we have Mrs. Rocío Rueda in Secondary and from Mrs. Helen Dávila in Primary.
Mrs. Rocío Rueda – Spanish Secondary Teacher
A DYNAMIC READING FROM THE LATIN AMERICAN LITERARY BOOM PERSPECTIVE
The rigor of the IGCSE Spanish program requires that Year 11 students face a variety of literary texts and, through hard work of analysis and interpretation, find valuable meanings to understand the world and its inhabitants, respecting diversity and the wealth of this for their personal and academic growth.
Of course, Latin American literature belonging to the Boom of the twentieth century is a great way to achieve this empathy with the universe and the individuals that compose it given the mythical-magical symbology that was compiled and made available to the art of the word by great authors like Gabriel García Márquez and Laura Esquivel, writers who have been read and, I hope, enjoyed by the students of this level.
From these works, our students are developing their critical thinking that is articulated through different learning strategies such as the technique of questioning (QFT) that allows them to ask themselves questions about the author, the different parts of the text and the contexts that inspired the authors to create their works; but above all, to meet its Latin American roots or roots that, in one way or another, are present at the beginning of every culture. The international character of our institution is favoured with the incorporation of readings from the region that will undoubtedly feed the identity roots of Latin American students and nurture the knowledge of those who come from other cultures.
Undoubtedly, a thorough and insightful analysis of the resources used by the authors is a strategy that, in principle, could be somewhat tedious; However, little by little, and while managing the work so much, it is part of his daily school life to such an extent that at a moment in his path we can find ourselves enjoying the reading of a work no longer as a student-teacher; but as reading partners. This fellowship translates into dynamic, participatory, sometimes disorganised classes since the desire to intervene, give their point, make their discoveries known makes them lose class composure to share with all their ideas and leave the class with a smile and Not with a frown.
The strategies are many and very diverse to be face to face with the literary work; nevertheless, the most important thing is the opportunity that Literature offers us to evoke earlier times or imagine future times; being close to characters, spaces and events that we do not live, or if we live them, details escaped from our eyes that by reviving them, help us to better understand historical, social and personal processes that allow us to grow as human beings and so both being agents of building a better world.
Reading experiences from any perspective is an inexhaustible source of knowledge and fun.
Mrs. Helen Dávila - Year 3B Teacher
Last week we had a visit from Liz Gaunt from the Instituto Geofisico. She talked to us about how Earthquakes are formed and the different types of faults. We had a demonstration using milky way chocolate bars which demonstrated how mountains can be formed and the gooey mantle below the yummy crust! This was a brilliant way to capture the children's attention and have a yummy snack!
We had been learning quite a bit about how earthquakes happen and where in the world, so when talking to Liz, the children were able to share their knowledge. It was amazing to see how much they were able to recall from our two weeks of topic lessons.
Liz then went on to discuss seismic waves and the 4 types. Now this is where the adults learnt something new. There are P waves, S waves, Love waves and Reyleigh waves. Did you know this? We were shown how these waves work with the use of a slinky which was very cool and wobbly. We were very lucky to have an expert in to talk to us and answer many of the children's questions. Thanks again to Liz for coming in to talk to us.
We have been taking a look at the USGS website to see when, where and how big recent earthquakes have been around the world. Here is the link to the website if you would like to check like we are doing in class.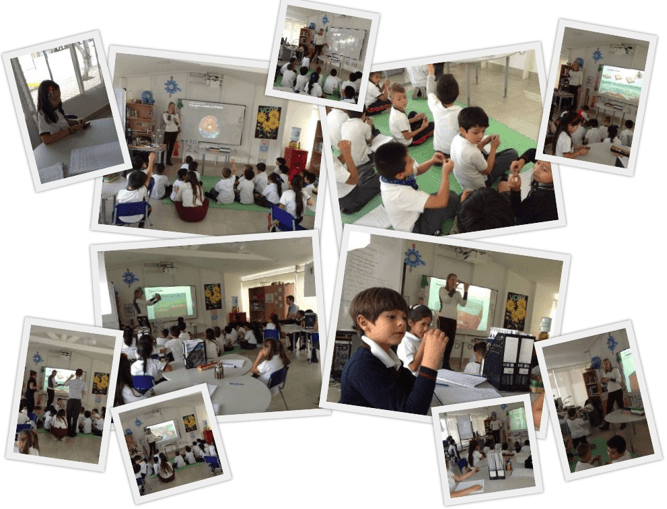 November 25th - Mock Exams Y13
December 3 - 8th - Trip to Lago Agrio Y12
December 10th - Closing date for BSQ Parent Survey 2019
December 10th - KS3 cultural trip
December 14th - Christmas Fair
December 19th - End of term
Emma Newman
​Principal
Being BSQ – Primary Update
Last week the Year 5 and 6 students enjoyed a really informative and creative visit to an organic farm called Granja Urkuwayku. Amongst other things, the students learnt about the dry toilet and how water is gathered from the environment then recycled, the various terraces, the guinea pig pen and also using the space as inspiration for story writing and sketching. Using the outdoors as a classroom really inspired these students and also gave them the chance to learn a little more about the mountain that overlooks our school.

Year 1 also visited the Water Museum, finding out a great deal about the water cycle and how to conserve water.
On Wednesday morning at 8am, the Year 4, 5 and 6 parents are invited to a Parent Workshop titled 'Puberty is here. How am I supposed to handle it?', led by Miss Andrea Carrera. This will explore how you can support your child at home and school during the time in their lives.
The youngest students in school are busy preparing for both the Nativity Performances and the Nursery Christmas Singalong (planned for Thursday 19th December). Please support your child with any costumes, songs or lines.
Many of our students use the Bus Service to come to and from school. Please remember to give us lots of notice if you plan to change the arrangements – the best way to let us know is to email Mr Ruiz (fruiz@britishschoolquito.edu.ec or transporte@britishschoolquito.edu.ec) and copy in Sandy and your child's class teacher. We continue to have students coming to school without a suitable hat – please be aware that any student without a hat has to stay in the shade and is not allowed to play in the main playground.
Star of the Week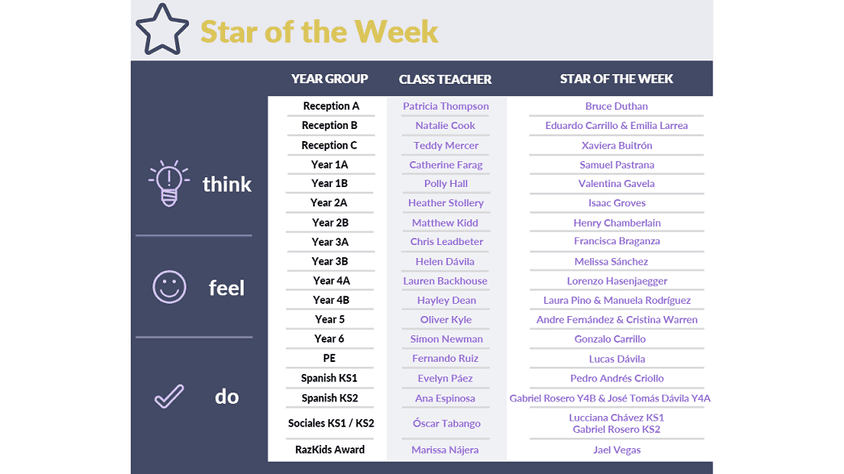 Marcus Madden
Head of Primary
Being BSQ – Secondary Update
Learning Mastery
After much planning and preparation, we have now begun our new Learning Mastery Programme (LMP) in Secondary. The LMP is a process by which students identify their own strengths and areas for development, choose a focus for the year - a mindset, learning behaviour or skills they wish to develop - and set a goal. They then meet with their designated coach - one of their form tutors - on a regular basis for a one-to-one coaching session to help them formulate and follow-through on strategies to meet those goals. ​
​It's based on our own Professional Mastery Programme which we use to develop ourselves as teachers, so we know that it works. I do hope we see the same great results with our students.
House
One of the more British things about BSQ is our House competition. House competitions - so called because in a British boarding school the students would be grouped in literal houses, where they would sleep - will be familiar to anyone who has read or watched the books or films of the Harry Potter series, which I can only imagine is all of you. Our students are all assigned a House team - either Antisana, Iliniza, or Cayambe - upon arrival at the school (though without the aid of a sorting hat), and for the rest of their BSQ careers they compete, in fortnightly contests and through the ongoing accruement of House points for embodying the school's values of care, respect, determination, and so forth.
Jim Wild
Head of Secondary
From the BSQ Counselling Team