Now it is December we can really start to think about Christmas, enjoy the festive music, plan time with our families and think about the gifts we will be giving to our friends and relations. But before that we celebrate our own local festival with Fiestas de Quito just around the corner. Here at BSQ we will be setting out our balconies and decorating the school in the traditional colours. It is important that we celebrate and recognize the culture and heritage of all our students and this week we get a chance to celebrate for Ecuador! Look out for our pictures next week and remember that school will be closed on Friday for the long weekend.
Remembrance
Many of you will remember that on December 9th 2018, our friend and colleague, Barney Riley-Dobbin, died as he descended from the summit of Chimborazo. We will be remembering Barney with great affection throughout the day on Monday December 9th2019, and I would like to invite you to join us here at the school at a time that suits you to place a memory by Barney's tree at the swimming pool. The memory cards will be available for parents to collect from Sandy during the day and a table will be placed by the tree for you to write your message, where there will be pens and ribbons. The affection that we hold for Barney remains an important part of our life here at BSQ and whilst we will not be holding a formal memorial, we will be finding our spaces and times to think about Barney and to leave a message of reflection and love.
Parent Survey
Thank you to all the parents who have already completed the survey – I appreciate the time you have committed to supporting the future of the school. Please remember that the survey closes on December 10th so only one more week to have your voice added to the next steps!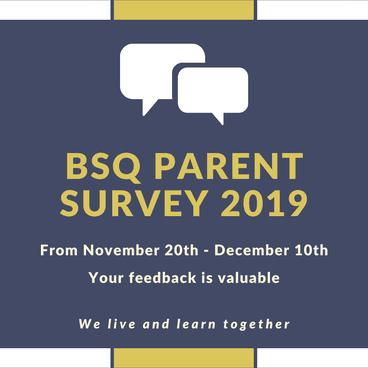 Exciting adventures
This week a group of our Year 12 CAS students are venturing out to Lago Agrio where they will be exploring and developing a deep understanding of some of the projects that have developed there amongst the local communities. I know that this expedition will have a lasting and powerful impact on the students and the teachers with them (Ms Parker and Mr Kennedy) and we look forward to hearing all about it on their return. Our CAS projects are outstanding and really allow our students the opportunity to explore, discover, learn and change.
Drive-through
Firstly, thank you to all the parents who use the drive-through and road outside so carefully and respectfully. Just some reminders, because if we all follow the guidelines then the drive-through will be really effective, smooth and trouble-free.
This is a crossing and should never be covered by a car as it is a safe space for children to use. (add picture of the crossings)​
The only cars that can drive directly into the drive-through are those coming from Los Chillos direction – respecting this will ensure that traffic flows smoothly.
Children should not be leaving the campus without an adult – please do not ask your children to meet you outside as the purpose of this request is to ensure that there is a seamless transition from teacher to parent.
If you wish to talk to a teacher, then please park your car and walk in so that the traffic is not delayed
TEDx Event
Fascinating focus on education.. Keep an eye on our social media channels to find out more... #BSQLife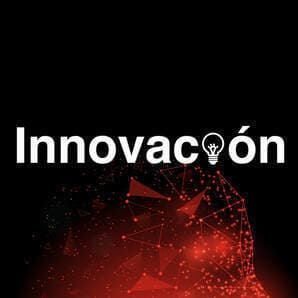 Christmas Carols 2019
The British Group is delighted to invite you and your family to a wonderful evening singing along our BSQ Choir celebrating together as a community.
The event will take place this December 12th at Buena Vista Tennis Club at 5:30pm. This year the event will have an entry fee $15, and all proceeds will be donated to two foundations in support of gender equality and women empowerment projects.
If you would like to attend and contribute for this causes, you can purchase the tickets here.
PA + CAS Announcement
In spirit of the holidays, the PA Social Committee + CAS are leading a donation campaign until December 9th. If you have books in Spanish in good condition that you would like to donate for children between 0 – 8 years old, please contact a PA representative and let them know.
Our team- the sports team
​Today we introduce you to our sports team, they constantly prepare and train daily to give their best and help all their students to develop all their skills better and to put into practice all the good values that the sport teaches.
From the Staff and Students
Continuing with our teachers and their stories about learning in the classroom this period. This week we have Mrs. Patricia Tufiño and Year 10 students from Secondary and Mr. Matt Kidd from Primary.
Patricia Tufiño- Spanish Secondary Teacher
In these last two weeks, students of year 10B, in the Language and Literature class have investigated and explored the author Gioconda Belli as part of the preparation of the IGCSE programme. To get a good inquiry, the students had to review and print the information from three bibliographic sources or visit three reliable websites.
With the information they collected, the students had to apply the underline technique to classify and rank the information. The next step in this process was to expose in a creative timeline everything learned from the biography and contexts of the author under study. In addition, demonstrate solvency in front of their peers with oral presentation of what they know and explored.
We immediately proceeded to read the author's first poem "And God made me a woman" where we could appreciate the deep feelings of pride and courage of being a woman, as well as the themes of life, pride and love. The students valued and appreciated this poem composed of twenty-six verses along which the passionate poetess reflects with pride, pleasure and awareness on her feminine nature.
Finally, to get a thorough and insightful analysis of stylistic resources, in the literature class we are working with the characteristics of the lyric genre, the metric, the verses, the stanzas, the rhyme, etc., resources used as tools for Create beauty with the word. In this way we put into practice the literary analysis encouraging the development of critical thinking, as well as creativity.
MUN: Samantha Baugh, Year 10A
Throughout the past few years, the BSQ community has been working to improve its MUN programme. So far the results have been clear demonstrating that all the hard work of the year 12 students, Gala, Bianca, Sofia, and Mathias, Mr. Ashfield, Ms. Espinosa, & Ms. Camacho have not been in vain. With it only being the 3rd month into our school year, we have already been invited to 4 inter-collegial conferences, and we proudly attended Colegio Americano's 25th CAMINU conference. The conference lasted 3 days, with challenging hours that ranged from 8am to 6:30pm in the final day, a Saturday. Every student put effort into researching and understanding their country's political position to ensure their debate skills could be as good as possible. We are all excited to take part in more conferences in the future, and improve so that one day we could win as a school the best delegation.
Duke of Edinburgh International Award: Katherine Hoshima, Year 10A
In Duke of Edinburgh for the last few weeks we have been doing various sessions to prepare us for our expeditions which will happen after the Christmas break. We had a class with the school doctor to teach us first aid in case something goes wrong during the expedition, we learnt how we should treat the environment around us and more recently we have been focusing on things like what should we take in our rucksacks and planning our routes. I am currently almost half way for all my personal activities which are personal training for physical, Triada for service, and circus skills for skill. The most challenging one for me is personal training because I have a very specific goal which I have been trying to achieve and am very determined to do so. Along with a group of other people from the grade, we are organising an event for Triada to try and have more interaction with the children and their parents as well as giving them a happy Christmas.
Matt Kidd - Year 2B Teacher
​How have natural phenomena shaped the planet?' is the topic question the boys and girls of Year 2B have been asking. This week, the class has been studying rivers and how they move and flow. To support this learning, Year 2B built their very own river using materials from around the school. The children really enjoyed the learning and had lots of fun getting wet and understanding how rivers flow.
December 3 - 8th - Trip to Lago Agrio Y12
December 10th - Closing date for BSQ Parent Survey 2019
December 10th - KS3 cultural trip
December 14th - Christmas Fair
December 14th - Christmas Carols 2019 at Buena Vista Tennis Club
December 19th - End of term
Emma Newman
Principal
Being BSQ – Primary Update
This week the students in Reception, Year 1 and Year 2 will continue practicing for their Nativity performance of 'Hay Presto' on Tuesday 17th December and Wednesday 18th December. The benefits of participating in performing to small audiences are valuable and numerous, including emotional, social, physical and even academic. Academic evidence suggests that participation in assemblies and plays is related to various positive personal and academic outcomes, improving child development as a whole, enhancing cognitive, motor and social skills.
​Various aspects of performing arts classes, from improvisation to performing on stage, will help your child build confidence and self-assurance. They will learn to explore outside of their comfort zone, appraise new situations, think outside the box, express their thoughts and ideas in a safe environment, solve problems, cope with performance and presentation fears and build trust and self-reliance. All of these beneficial tools can be carried through to school, social activities, their future career and will hopefully stay with them throughout their lives.
Drama and performing classes help improve communication skills, concentration, and memory. One of the main advantages of taking part in the performing arts in young individuals is the improvement of communication skills. Acting lessons, for example, will help with their presentation skills, vocal projection, tone of speech, and articulation.
Listening skills will also get refined by taking stage directions from teachers, by collaborating with peers and working together toward a common goal. From learning new lines, to remembering their acting cues and timing, and rehearsing scenes time and again, your child will improve their focus, memory, concentration and quick-learning skills.
The students will also improve their social skills by working as part of a team, listening to others and expressing themselves, sharing and making new friends. They will learn to minimize errors and bounce back, solve problems and improvise, giving them the confidence to manage and perform in new situations that come with everyday life. The participation in these types of events will also help enhance their interpersonal skills because they need to understand their play characters and the different roles, which allows young children to relate better to different situations, people, feelings, and support the ability to be in 'someone else's shoes.'
Higher academic achievements. Studies have also found that creative and critical thinking, problem-solving and reasoning increase and improve when performing arts education is experienced by the student. As the Arts Education Partnership Report "Arts Education Has Academic Effect" suggests, arts learning in music, drama and dance is related to high academic achievements in school. Performing arts programs have multiple connections to reading, verbal and maths skills, problem-solving and creative thinking.
And finally, it can be great fun! Our students get to express themselves and their emotions and explore and improve their unique talents. Whether students enjoy acting, singing, dancing or a behind-the-scenes role, they will delight in expressing and improving their special talents.
On Wednesday this week, related to this article, we have several students from Mr Kidd's Enrichment Activity visiting a local recording studio, where they will learn about the whole production process and maybe even record their own song! On Thursday some Secondary students will host a Bake Sale as part of their CAS project, so please do send in 50c or $1 if you would like your child to participate. There will be other fund-raising events coming up too from these students – more details to follow. Please remember that school is closed on Friday 6th December.
Star of the Week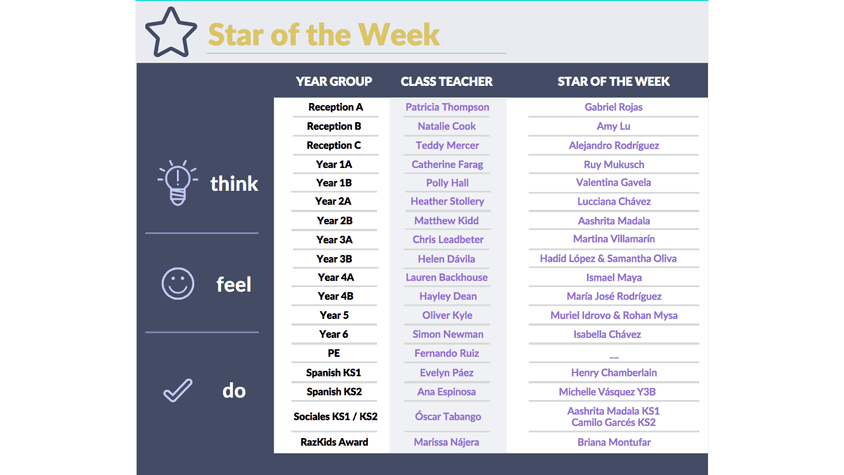 Marcus Madden
Head of Primary
Being BSQ – Secondary Update
Saturday 14th December
While you are all, of course, invited to attend and enjoy the Christmas Fair taking place on Saturday 14th December, where our Secondary Community Project groups and CAS students will be raising valuable funds for their respective excellent causes, if you are a parent and/or student of Year 11 or 13, then there are two further reasons for you to be at school that day.
Year 13 Parent Meetings
With the IBDP mock exams fresh in mind, we expect all Year 13 parents and students to attend progress meetings with each of their subject teachers. This will provide an invaluable opportunity to reflect on what is going well, what needs to do better, and how to proceed over the holiday break and beyond to ensure the very best chance of success in the end of year assessments and exams. In these sessions, teachers will be able to drill down into the students' performance in exams and internal assessments, providing specific and rich feedback on each individual, as well as providing guidance for the road ahead tailored to each student's individual needs.
Year 11 and 13 Wellbeing Workshop
In addition, and of equal importance in ensuring success, we will be running a session for parents and students in Years 11 and 13 on how to manage stress, study, motivation, procrastination and organisation at this busy time for both classes. Everybody with a stake in these classes should attend this.
Year 11 Maths Workshop
If that wasn't enough, Ms Sadotra will also be curating a workshop for parents and students of Year 11 focused on preparing for the Mathematics IGCSE, including a discussion of which choice of paper would best suit each student. Again, this session is a must for everyone in Year 11.
While other students (save those taking part in the Community Project and CAS activities), and parents of other year groups, aren't required on the day, we'd love to see as many of you as possible enjoying the festive fun of the Christmas Fair.
Jim Wild
Head of Secondary
From the BSQ Counselling Team