Climate Change Day
This Saturday, BSQ will be holding its first Climate Emergency Day.
We all know about the way in which our actions and behaviours are affecting the world around us and we also know many ways in which to make a difference by changing what we eat, wear, buy, drive and throw away.
​So, all the BSQ students will be taking part in activities designed to secure some of that knowledge into action. Make sure your children are here to be part of our commitment. Here are our Climate Change Committee students with their introduction to our day. Why not have a go at this quiz to see where you can make simple changes at home too.
How environmentally friendly am I?
The Secondary Climate Change Committee are very excited to announce the first BSQ Climate Emergency Day. We have been busy planning this for many weeks with Mrs Madden and hope it will be educational and fun. There will be eight practical workshops in Secondary and students have already signed up to whatever takes their interest. The eight workshops are: Fast Fashion, Burger Backwards, Wicked Waste, Climate Chaos, World Web, Plastic Problem and Easy Energy and Wild World. In Primary, the teachers have also been busy planning Climate Change themed classes and students will be working in their classes on some exciting projects.
The day will start at 8.30 and finish at 12pm. There will be school transport provided on the day and the snack bar will be open as usual. Students will be expected to come in school uniform.
CCC students – Mrs. Sally Madden
​Exciting News
On January 27th a special event will be held here in Quito to mark the launch of COP26 which will be held in Glasgow, Scotland, UK in December 2020. Our Climate Change Committee core students and staff members have been invited and will represent the great work being done here at the school to change minds and actions linked to the environment. More news to follow.
Enrichment Activities
We are always looking for new ways to extend and develop our enrichment programme and this term we have introduced two new exciting options for our senior students.
Enrichment activities started last week and we are very happy to start this period with two new activities led by professional instructors. Francisco Romo - Capoeira and Ricardo Ortiz - Rugby.
Capoeira is a martial art of Afro-Brazilian origin, which uses dance, music and acrobatics. The practice of this sport helps the physical development of coordination, agility, strength, speed and flexibility. It contributes to self-knowledge, self-esteem, discipline and the desire to constantly overcome.
Classes consist of training and jogo (game in Portuguese) accompanied by a basic musical instruction of instruments such as djembé, tambourine and berimbau. In addition to a familiarisation with Portuguese through the songs.
Rugby was created almost 200 years ago in England at the school of the same name. In Ecuador it is practiced officially for more than a decade, maintaining the same values, chivalry and nobility of the sport. Classes are structured based on the practice of discipline, respect, integrity, and solidarity. The sport needs strength, endurance and speed, so each game is done aiming at the diversity and inclusion of members.
It is a pleasure to give our students the opportunity to learn and have fun every week.
Ms. Nicole Camacho
TEDx:
​Stay tuned to receive more information about our ground-breaking TEDx event. Our focus will be on Education, Innovation, Diversity and Wellbeing.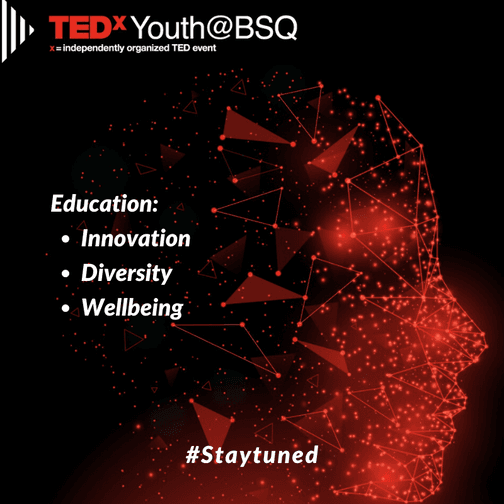 From the Staff and Students
Continuing with our teachers and their stories about learning in the classroom this period. This week we have Mr. Kevin Dobson from Secondary and Ms. Antonella Coronel from Primary.
Kevin Dobson - Secondary Geography Teacher
At the start of the academic year I had the pleasure of taking over the reins from Mr Taylor as the leader of the International Duke of Edinburgh's Award Scheme here at BSQ. For those who are unaware, the scheme, often abbreviated to the 'D of E Award' was initiated by Prince Philip in the UK in the 1950s and aimed to promote independence, commitment, learning new things, and teamwork as well as 'outdoor skills' to teenagers across the country. The Award offers Bronze, Silver and Gold levels, each demanding more commitment from the young people taking part. They must learn a new skill, take part in physical activities, provide a service to the local community, and successfully navigate two separate hiking expeditions.
Today, the International Award is delivered in more than 140 countries and BSQ is the only organisation to offer the Award in Ecuador. We have delivered the Bronze Award to students in Year 10 for many years now, and although the Silver Award was offered in the past, it was not last year therefore this year I have been working tirelessly to provide the opportunity for students in Years 11 and 12 who have completed their Bronze Award to progress through the Silver Award. Nine students across Years 11 and 12 successfully completed a challenging three-day hike along the 'Ruta del Quinde' from Nono to Mindo in November and will be completing their qualifying expedition in Quilotoa in February. I wish them the best of luck in this!
Students completing the Bronze Award in Year 10 have their first expedition rapidly approaching at the end of January – a practice walk along the Chaquiñan and then up (and back down) Ilaló. Students who perform well in this expedition will be invited to complete the qualifying expedition to Cotopaxi National Park in March.
We are already beginning to look at ways that we can offer the Gold Award in future years, so those who have completed their Silver Award can continue to the ultimate challenge within the DofE Award!
Antonella Coronel – Nursery B Teacher
Welcome back everyone!
For our first term back the nursery team will concentrate on the area of the curriculum "Understanding of the world". To start this process, we chose to develop an understanding of growth, decay and changes over time. For this we began with the story "The Very Hungry Caterpillar". This story gave us the opportunity to learn about the life cycle of butterflies, number-quantity, cycle of the days of the week and the process of how plants and fruits grow over time.

​The children did beautiful caterpillars using pasta and pipe cleaners. Through this activity the children discovered different types of textures and descriptors. Big, small, thin, fat, long, short, hard, soft, fast. Slow, etc. We will also be planting seeds to watch them grow while caring for them during the week. We hope to plant them outside in the garden once they are big enough!
January 18th – Climate Change Day
January 21st - Parents information meeting for Duke of Edinburgh's International Award - Bronze Level (Year 10 students) at 3.30pm in the Library.
February 11th – IB Open Day
March 20th – 21st – Driving Change 2020
Emma Newman
​Principal
Being BSQ – Primary Update
Our first week back after the Christmas break has seen several new students start at BSQ, with our existing students to be commended for their welcoming and caring attitude and approach.
We use our school values as a driver for many of the learning opportunities we undertake here and explicitly refer to them when speaking with the students about their progress and personal development.
​As part of this, a group of students spent some time last term to create a set of guidelines for our values, expanding on each statement and suggesting ways we could incorporate them more into our daily lives. This week I would like to explore our first school value and specifically the word 'respect':
We live and learn together with respect and care for each other.
Our students felt that this was an extremely important word for all the members of the community, particularly as it guides all of our interactions on a daily basis. They expanded on this concept of respect by encouraging us all to:

treat every single person in our community equally, showing respect, empathy and understanding.
consider how we talk and act, using language that respects the dignity of others.
use our actions to show respect to everyone in the BSQ community by always being on time, being engaged in lessons and using appropriate language.
show respect for our campus and the world around us.
As adult members of the school community, we have an important role to play in guiding the students in this area, through actively demonstrating respectful behaviours and attitudes in all our interactions with each other and being good role-models for our children. When we listen to someone else with a positive outlook, always thinking that they have the best intentions, it helps to create a positive atmosphere of respect and demonstrates that we understand other people's points of view and understand their intentions more clearly. When we disagree with someone, if we use clear, calm and polite language to explain our thoughts, it enables both parties to listen more attentively to each other and helps us to reach a satisfactory agreement quicker. When we actively engage in lessons, meetings or events, rather than appear distracted or disengaged, we demonstrate that we care about both the content of the session and the person delivering it. And finally, when we look after the equipment and resources we have at school, such as the playground equipment, classroom equipment and our waste, we show that we care about our environment and are aware of our role in maintaining it.
If you have any suggestions or comments to support us in creating a respectful community, please do let us know – we are always open to new ideas and want to involve the parents as much as possible in the development of the school.
We are all looking forward to this Saturday's learning opportunity at BSQ – Climate Change Day. This will start at 8:30am and finish at 12:00pm, with Drive Through being open as normal between 8:15am and 8:30am and then 12:00pm and 12:15pm. There is a normal school bus service on Saturday, with slightly altered times as we are starting school 30 minutes later than normal. Please note that we will not serve lunch on this day, but we will have snack as normal in the morning.
Star of the Week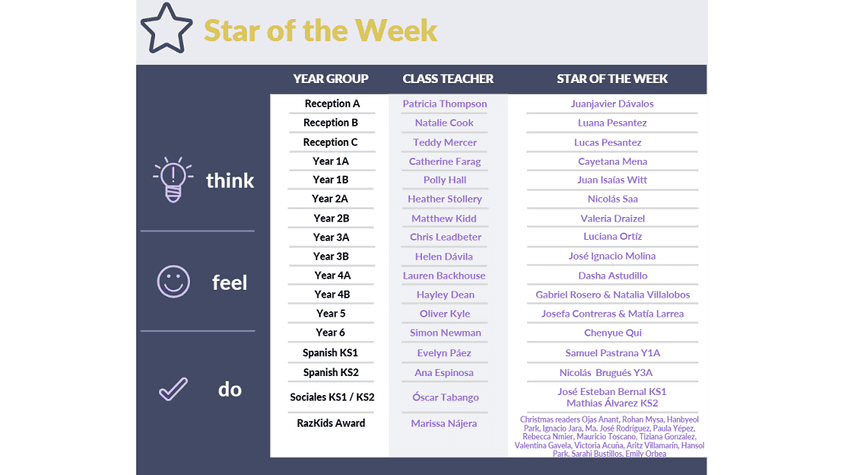 Marcus Madden
Head of Primary
Being BSQ – Secondary Update
Exam Week
Welcome, one and all (well, except for Year 13), to Quimestre 1 exam week here at BSQ. While I've written before, and am sure I'll write again, about the importance of not putting too much importance on the exams, it is absolutely worth sharing a bit more information with you about how they work, and how you can help.
Years 7, 8, 9, and 10
Key Stage 3 and Year 10 exams begin on Wednesday, and run for three days. Students have three exams a day, of no more than one hour each, and with at least one hour between exams, as well as the usual break and lunch times. When not sitting an exam, students are free to study for the next paper, or simply relax with a book. Exams will be marked by the end of next Tuesday, when students can expect to receive feedback in their regular classes.
Year 12
Exams in Year 12 are longer and fewer. They are all based on IBDP knowledge, skills, and assessment models, but recognise the fact that, at this stage, students have only covered a small portion of the full course. As such, they aren't yet full mocks. Marking will be complete, and feedback will begin, by next Wednesday.
Year 11 - IGCSE Mock Exams
Year 11 started their exams last week, and those will continue throughout this week. Mock exams are bigger, harder, and more intense, and I wish them all the very best of luck.
Your Support
In all cases, your support as parents can go a long way to helping ensure success. Make sure that your child gets plenty of uninterrupted sleep, by keeping phones and other devices out of bedrooms after lights-out. Make sure they eat a good, healthy breakfast. Get them to school on time, as lateness creates unnecessary stress. And reassure them that exams are not the purpose of education, nor grades the outcome.
Jim Wild
​Head of Secondary
From the BSQ Counselling Team