Saturday was our first big event of the year here at BSQ and it was a huge success. By 11am the field was full of families and staff getting to know each other and sharing food and music.

The welcome back picnic is entirely organized by our fantastic parent association and also the final event with the out-going team. Once again, many thanks to all the reps and the Core PA for a wonderful day.
Our team - the Science Team

Of course, there is no subject of learning more important than any other and whether you are a musician, a mathematician, an artist or sportsman, you should be able to explore your talents and passions as a learner. However, there is one subject that is literally all around us and that is science. Every action we take, every thought we have, everything we eat, everywhere we travel – there is a scientific investigation just waiting to be explored. This week I want to give our science specialists an opportunity to share with you why science is important to them and why they think it is so important as a subject.
Wet Weather

Now that the rain has finally come, please remember to make sure that your children have warm clothes for the morning arrival, suitable shoes and a waterproof coat for going home time. We know that the rain can be relied on to start at the same time as the end of school at this time of year so please be prepared.

Drive-through

Thank you to all the drivers for taking notice of the reminders last week. Hardly anyone has been stopping on the zebra crossings and more parents have been walking in to talk. Working together like this means we can all have a safer and smoother end to the day.
From the Staff and Students
Continuing with our teachers and their stories about learning in the classroom this term. This week we hear from Mr. Stefan Karakashian and Year 10 students in Secondary and from Ms. Lauren Backhouse in Primary.

Mr. Stefan Karakashian – Secondary Maths Teacher

It has personally been a fantastic start to life in Ecuador for me and I'd like to thank everyone for making me feel so welcome into BSQ community. The Year 12 and 13 students, with whom I do most of my work, have had a busy but enjoyable start to their academic year too. They are now settled into their courses and are enjoying a sense of ownership of the study haven that is the IB Centre.

A particular highlight his week has been teaching a series of lessons on Theory of Knowledge in Mathematics. During these lessons we have been grappling with deep questions such as 'is mathematics discovered or invented?'; 'what are the links between mathematics and language?' and 'why do mathematical patterns and relationships occur within nature?'. Theory of Knowledge is a core element of the Diploma Programme which offers students a chance to link together their academic subjects whilst simultaneously supporting self-awareness and reflection skills.

I will leave you with a problem to solve - please email your solutions to skarakashian@britishschoolquito.edu.ec and the solution will be posted in a future newsletter.
6 pupils have, between them, won 3 gold medals, 2 silver medals and a bronze medal in a sports competition.

​Unfortunately, their teacher has lost all record of high medals should go to which pupils, so he allocates them by drawing names out of a hat.

​The first 3 names drawn receive the gold medals, the next two drawn have the silver medals, and the bronze medal goes to the remaining pupil.

How many different ways can the medals be allocated using this method?​
Year 10 newsletter

This year since we are in year 10 we get to take part in the Duke of Edinburgh; it consists of participating and completing a series of diverse components such as Services to the community, a physical activity and a skill of our choice.

The Duke of Edinburgh is an optional award, however, almost the majority of our year group has signed up to take part in this. Therefore, it will be interesting and a fun thing to do with my friends.

Ms. Lauren Backhouse – Year 4A Teacher

This week Year 4A have been learning about Buddhism as part of our study of Japan. We learnt that Buddhist have a set of rules that they live by and try to follow every day. We also learnt about important symbols of Buddhism, including the lotus flower. The lotus flower grows in the mud at the bottom of a pool but rises about the surface to become a beautiful flower. However, the flower does not last very long, symbolising that nothing in life is perfect. Year 4A made lotus flowers using wool and cardboard.
September 26th – Juramento de la Bandera
September 27th - House Event Primary - students
October 2nd. – Open Day at BSQ. 9am – 10:30am
Emma Newman

​Principal
Being BSQ – Primary Update
Thank you to all the parents, students and staff who helped make Saturday's Welcome Back Picnic such a pleasurable event – it was fantastic to see the school community together sharing such wonderful food. We have a range of different learning opportunities happening on Saturdays in the coming months, with our first academic Saturday on October 19th between 9am and 12pm. This is focused on interculturalism through learning about the cultures of others in our school community – more details to follow soon.

It is our second House event on Friday 27th September – please remember to send your child into school with their coloured House t-shirt for this event. We will also be inviting applications for House Captains over the coming weeks, with one student from Year 5 and one from Year 6 for each House, totalling six House Captains in total. The House Captains will play an important role in Student Leadership throughout the Primary School and should display leadership qualities and be a role model for all members of the School Community. They will support the students in their house during house events and also participate fully in the life of the school and demonstrate a sound capacity to work successfully as part of a team.

Finally, I have been impressed with the attitude and determination of our new students as they have all quickly integrated into our community, values and learning environments. This has been helped and supported by the students, staff and parents and I would like to say a huge thank you to you all for being such an incredible group!
Star of the Week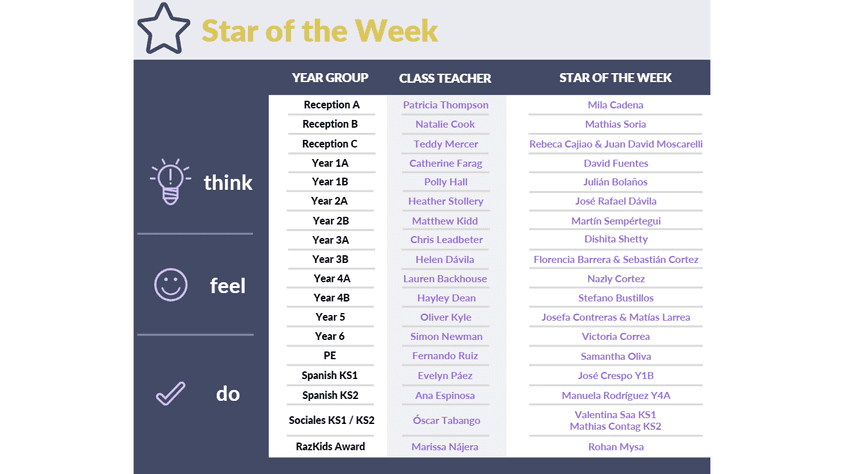 Marcus Madden

​Head of Primary
Being BSQ – Secondary Update
Motivation v Pressure

"Examination success is a consequence of a good education, not its purpose"
​
There is a fine line between motivating students and applying too much pressure, and it is the job of both teachers and parents to ensure that we stay on the right side of that line.

Stress is not an entirely negative thing, but too much stress is, and if we continuously focus on exams, grades, and consequences, we run the risk of fostering anxiety that has a deleterious effect on both motivation and the ability to learn effectively. Instead, we should focus on what learning is for: gaining knowledge, skills, values and habits that equip us for a successful and happy life.

Absences from School

Absences from school should be avoided unless absolutely necessary. Each lesson missed is learning that needs to rescheduled, and the more that accumulates, the harder it is to keep up or, preferably, get ahead.

When absences are necessary, please follow the established systems to inform the school:
Please email to let us know if your child is sick or unable to attend for any reason; these emails should be addressed to both the form tutor and Sandy in reception
Requests for students to leave school early should come via the form available on the school website, or be emailed directly to me; without the express permission of a parent, and a signature from me, a student will not be permitted to leave the school premises
Jim Wild

Head of Secondary
From the BSQ Counselling Team