​It was great to have a full and regular week last week and great also to see everyone working so hard and happy to be back at BSQ.
We invite our community to follow us on our new Social Media Channel: Instagram @britishschoolquito. Find out more about our living and learning together!
Celebration.
We all know how important the Climate Change agenda has become for all of us if we are to preserve our world for future generations, including our students – your children. Here at BSQ we have been slowly developing ways to improve our recycling and raise awareness of the use of certain types of products. Last year we joined with the active group RED Move along with many other international and local schools and – most exciting of all – we now have our very own fully trained (and accredited by the United Nations) Climate Change teacher. Agreeing to spend 25 hours of training time, Sally Madden has completed the course and is the first teacher to do so in Ecuador although I am sure others will now follow. Other teachers in the Orbital group are following our lead and the Latin American Heads Conference schools are also championing this programme. Watch this space for more updates as we continue our journey to become a truly Eco-School.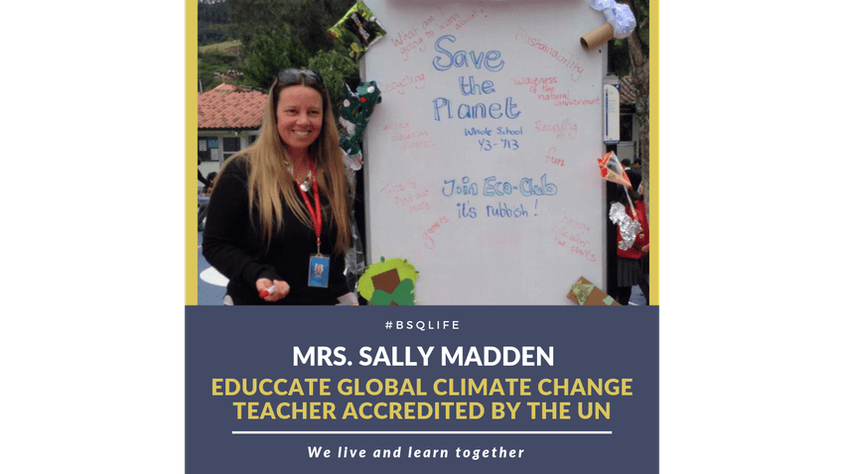 Global Citizenship Day.
On Saturday our students and staff celebrated Global Citizenship Day – all made so much more exciting by the world food contributions from our parents. What an amazing array of food from countries as diverse as Ecuador, UK, USA, Lebanon, Japan, Chile, Venezuela, Argentina. Many thanks to all our families who provided the food and supported the day.
Our team- the Spanish team
Spanish culture and language are essential elements of the students' learning here at BSQ from Nursery right through to the IB courses. Our wonderful team of local experts guide the learning and ensure excellent outcomes.
​Also, this week I am delighted to welcome our new Principal's Assistant.
​Santiago Salazar has joined us here with experience in customer service and business and will be working closely with me, the wider leadership team and the administration team.
From the Staff and Students
Continuing with our teachers and their stories about learning in the classroom this term. This week we hear from Mrs. Claire Maudsley in Secondary and from Ms. Heather Stollery in Primary.
​Mrs. Claire Maudsley – Secondary Physics Teacher
This term year 13 have completed their physics Internal Assessments for their IB and have now begun a new topic, Astrophysics, looking at the formation of stars and the solar system for standard level and extending to nucleosynthesis and dark matter for higher level. Over the summer they each completed a project on astrophysics which is complimenting their study this term.
Year 12 have begun their 2 year IB by studying basic principles and mechanics. We are studying projectile motion, using mathematical principles in the physics classroom such as trigonometry and SUVAT. Currently they are completing a project involving planning and carrying out a practical projectile motion experiment in preparation for their internal assessments next year.
In KS4 year 11 have just begun a unit on magnetism and electricity, which includes the fundamental basics of electricity generation. Year 10 have been learning about motion and graphing as they begin their IGCSE courses."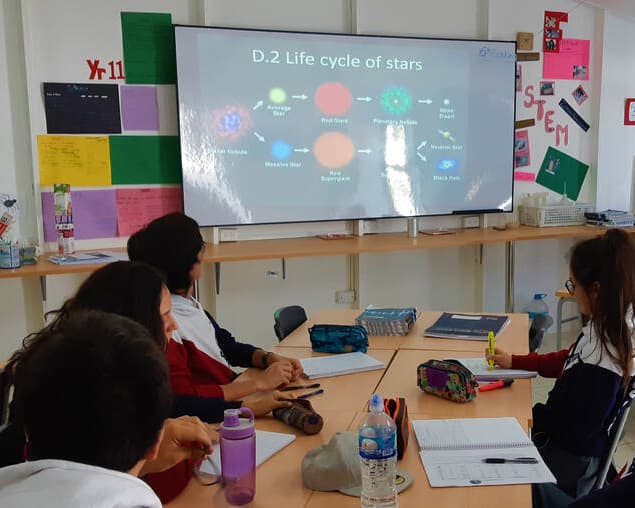 Ms. Heather Stollery – Year 2A Teacher
In 2a we have loved learning about different cultures across the continent of Africa. We went on a safari to Kenya to discover different animals that live there and saw beautiful sunsets. We decided to recreate these sunsets using water colours, focusing on oranges, reds and yellows. We have also been learning about a group of people called the Maasai People and we made jewellery to resemble the necklaces that they wear. We looked at videos of them jumping and tried to recreate this ourselves!
October 21st - 25th – CAS Spirit Week
October 25th – Halloween Dress up Parade
November 7th – Parent Teacher Conference day
November 11th – 14th – David Pottinger and Karl Wilkinson visiting
November 14th – 16th – Silver DofE Expedition
November 16th – Bonfire Night
Emma Newman
​Principal
Being BSQ – Primary Update
​It was great to see so many parents joining their children in sharing their learning about Global Citizenship.
Each class focused on one aspect of Global Citizenship and we hope this will start to develop our students' understanding of the wider world and their place within that ever-changing world.
This week Year 2 visit the Botanical Gardens in Quito and on Friday 25th October we will celebrate Halloween by dressing up and parading in our favourite costumes, followed by our half-term break, returning to school on Tuesday 5th November. Thank you also to everyone who has brought in Spanish books for the Sinsoluka Book Donation – they will be really appreciated.
​Then, on Thursday 7th November, we will hold our first Parent Teacher Conference Day of the year. This is an opportunity to meet formally with your child's class teachers and specialist teachers and discuss their progress, attainment and development steps for the future. Please do return your request form as soon as possible to your child's class teacher so that we can allocate an appropriate time for you. On this day, there are no normal classes and parents (and students if appropriate) are only expected to attend for their meeting. If you do bring your child into school for the meeting, please ask them to wear their normal school uniform and stay with you at all times – there will be no supervision for students in the playgrounds on this day.
Volcanic eruptions – Year 1
In Year 1, we have been learning about volcanoes and volcanic eruptions and we decided to made a model to demonstrate a volcanic eruption. We made a model of a volcano using paper mache and recycled materials and then recreated the eruption by using vinegar and baking soda. The results were amazing - we could see for ourselves how the lava flowed down the volcano and created new rock, changing the shape of the volcano.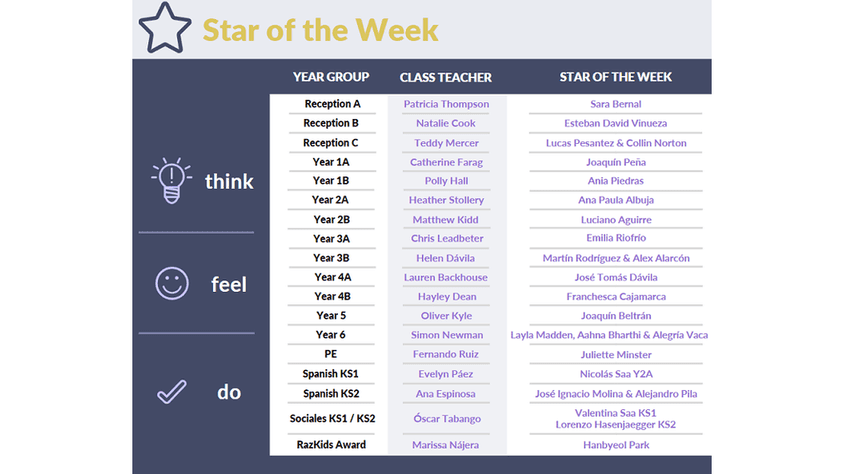 Marcus Madden
​Head of Primary
Being BSQ – Secondary Update
Rewards and Recognition Assembly
Each Partial, we recognise the students who have performed exceptionally well over the past six or seven weeks.
​This year, I will endeavor to publish the names here as well. Here are the winners for Partial 1:
Saturdays
As much as learning the individual disciplines, like Science, Maths, and Humanities, is important for academic success and progress, it is also vital that we provide, and that students embrace, opportunities to bring their learning together to see how everything connects and relates to the real world of the present and the future. This interdisciplinary and applied learning takes place in the regular curriculum from time to time, and is the particular focus of a number of our Saturday activities this year.
The first of these, which took place on Saturday, was about Global Citizenship - a key aspect of any 21st century education. Students looked at a number of issues deeply relevant to their lives and those of the local and global community, through various academic and social and emotion lenses. In every activity I attended, there was a buzz of learning and growth.
These Saturdays also count as regular school days. The register is taken and counted, and the learning is just as important as on any other day. As such, I would ask please that you as parents do everything within your power to ensure attendance on such days, just as would on any regular Tuesday or Thursday. That way, we can continue to build on our successes and build meaningful learning experiences for these, our leaders of the future.
Community Conference Day
We believe in the value of strong ties between home and school, and that the best way to ensure our students' continued success is to work together. Thursday 7th November will be our first community conference day this year. Instead of the various Saturday mornings we used last year, we will instead use a whole day, and instead of invite a few year groups at a time, we will instead invite you all. Students will not have classes, but will attend with you. I will send an invitation later this week for you to sign up to individual meetings with each teacher. I do hope to see you all in school on 7th November.
Jim Wild
​Head of Secondary
From the BSQ Counselling Team