I hope you all enjoyed the break and are looking forward to lots of hard work and exciting activities between now and Christmas.
​Before the break we had a very exciting week where our CAS students organised the annual Spirit Week designed to raise awareness and funds for a chosen Foundation. This year the focus was on our partnership with Beyond Lagartococha but I'm going to let the students tell you all about that.
This year Spirit week was brought to BSQ by Beyond Lagartococha, a nonprofit foundation that twelve IBDP students have ambitiously joined as a part of our CAS careers. Our main focus throughout the Spirit Week was to raise awareness, and with that, raise money to help fund the Beyond Lagartococha projects as well as making it an enjoyable experience for the students and teachers.
Sofia Ferrari – Year 12 student
To begin, we would like to clarify that the money that we fundraise for Beyond Lagartococha goes directly into the financing of our projects that help the Secoya community, an ethnic minority on the border of Peru and Ecuador. Our BSQ group is focusing mainly on improving the healthcare of their community, although Beyond Lagartococha, across different schools in Ecuador, has previously had a focus on improving their education as well.
Organising such a big whole-school event is challenging in many ways; from contacting staff members to regulating tasks amongst ourselves, the execution of Spirit Week was very demanding, however, worth the effort just as much. In the early stages of our planning, a simple outline was more than enough to get us going, however as we approached the promised dates and reality began to seep in, we had to begin to pay close attention to the details and particulars which together would add up to a successful Spirit Week. If we were to miss out any of these details the results would be catastrophic, therefore, close and accurate organization within our group was crucial.
An explicit example of such details includes the announcement and regular publicity of our Spirit Week across the school: posters had to be made and displayed around the institution, emails had to be sent out multiple times a week to remind students of the event, teachers had to be contacted for specific permission, among other things that would ensure the maximum number of students participating. For each of these tasks we each had to undertake certain responsibilities and trust not only ourselves to accomplish these duties, but our teammates as well.
Every person's small contribution would widely benefit the group as a whole every time, and as we slowly figured out the best ways to work cooperatively, the small pieces, the small details began to fall into place, and accordingly the bigger picture was constructed: our Spirit Week.
Visitors and Coffee Morning.
As I mentioned in the newsletter a few weeks ago, David Pottinger, the CEO of Orbital, will be visiting us next week and he will be joined by Karl Wilkinson, the Regional Head of Schools whom many of you have met before. We will be having an informal coffee morning on Wednesday November 13 at 08:15 in the library. I hope that as many of you as possible can join us. Please contact Sandy to let her know of your intention to attend.
Our School Values.
Before the end of term our Diversity and Equality student group, led by Ms Parker, spent a day working on a student guide to our school values. What they have designed is an excellent set of statements that clearly mark how the students can live the values every day in their lives here at BSQ. Here is the outcome for their work.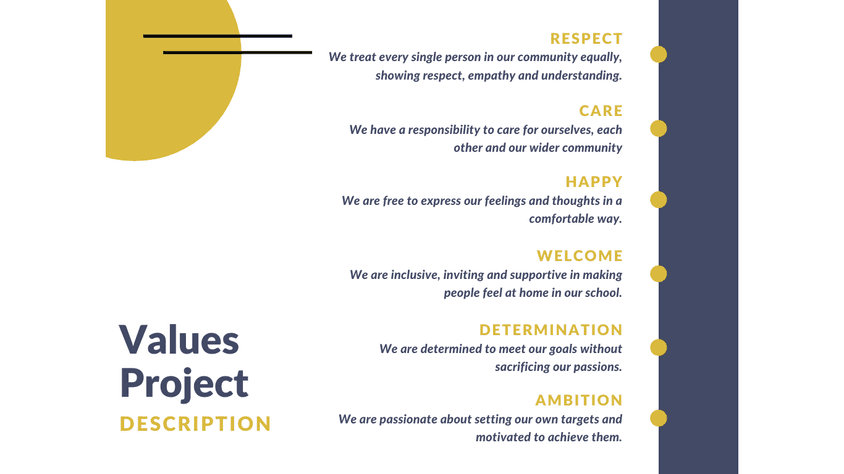 Constructions.
Some of you may be wondering what is going on inside the wooden structures that have appeared around the school. Inside these boxes we are busy building the foundations for our wonderful covered areas that will give students, staff and parents essential shade and shelter for activities, learning and play. These will be finished in time for the Bonfire Night celebrations.
Exciting Orbital Exchange Opportunity
Following on from the successful cultural trip to Budapest earlier this year, we are excited to announce that in 2020 we will be participating in the first cultural trip to visit Moscow - another Orbital base.
If you are interested in participating in this visit it will be open to students from years 5 - 10 and the dates are between June 14th and June 20th 2020.
Please contact azambrano@britishschoolquito.edu.ec to register your interest by December 2nd so that we can communicate with our colleagues in Russia and set up a meeting to share more information.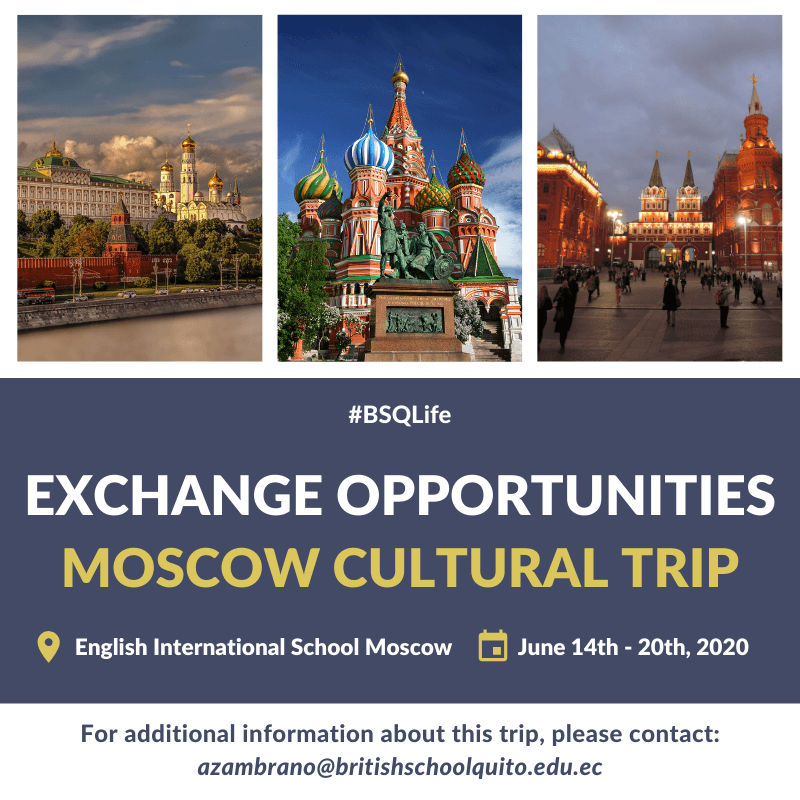 Our team- the Finance team
The financial team, although not very visible to everyone, works hard for the continue development of the BSQ community.
From the Staff and Students
Continuing with our teachers and their stories about learning in the classroom this term. This week we hear from Ms. Valeria Cano, from Mr. Stefan Karakashian and from Y7 students in Secondary and from Ms. Polly Hall in Primary.
Ms. Valeria Cano – Music Teacher
This week in music Nursery and Reception the children have listened to Camille Saint-Saëns 'The Carnival of the Animals' and learned to recognize the turtle, the hen, and the aquarium songs. This is an introduction for students to classical music in a fun way, as they act out the animal each song represents. With year 4 we learned how to draw the treble clef on small white boards, so we can start to learn the notes and play some instruments. Year 5 has done an incredible job by learning the song 'cups ', we have learned just with the hands, and will do the rhythm with the cups in a few weeks. Year 6 learned the major scale and where the notes are located in the staff - they did a fantastic job and worked so well in identifying this.
With year 7 we have practiced for our upcoming musical 'High School Musical 'and they've been acting out the song 'Status Quo' with words and choreography, which has been great to see and a wonderful experience to be part of. Now, with year 8 the chosen musical is 'Grease', so they've been learning 'Summer Nights' with choreography, which we have rehearsed outside in the stairs and tables of the school. Year 9 has been rehearsing their chosen musical, which is 'Aladdin'. The girls are working on an amazing choreography with the song 'Prince Ali'. They all are very enthusiastic about it, and so am I. This week with them we also learned how to build chords and played a little game based on it. Finally, with year 10 we are focusing on scales for their IGCSE exam, and we have practiced how to make their compositions by making small songs in pairs. And year 11 are being introduced to Arabic music, which is the chosen genre for their IGCSE in 2020.
​Mr. Stefan Karakashian – Secondary Maths Teacher
In September, I shared a problem with the community in the newsletter. The problem and solution are below:
Problem: 6 pupils have, between them, won 3 gold medals, 2 silver medals and a bronze medal in a sports competition. Unfortunately, their teacher has lost all record of high medals should go to which pupils, so he allocates them by drawing names out of a hat. The first 3 names drawn receive the gold medals, the next two drawn have the silver medals, and the bronze medal goes to the remaining pupil. How many different ways can the medals be allocated using this method?
Solution: There are 6 different students who could receive the first gold medal, then 5 others for the second and 4 remaining for the third. Therefore, there are 6×5×4=120 orders in which the medals can be presented. However, this counts each set of three people winning the medals in each of the six orders, so there are 120÷6=20 sets of three people who could win gold. For each of these, one of the remaining three people must win bronze and the others silver, so there are 20×3=60 ways in which the medals can be awarded.
​Y7 students in Secondary
Year 7 started spirit week in great style with students dressing up for the theme "squad" where they dressed as characters of their choice. From High school musical, Free fire soldiers, Winnie the Pooh, Tigger, Piglet and Eeyore, and finally Kung Fu squad. Was a fantastic atmosphere and was great to do this all in the name of charity.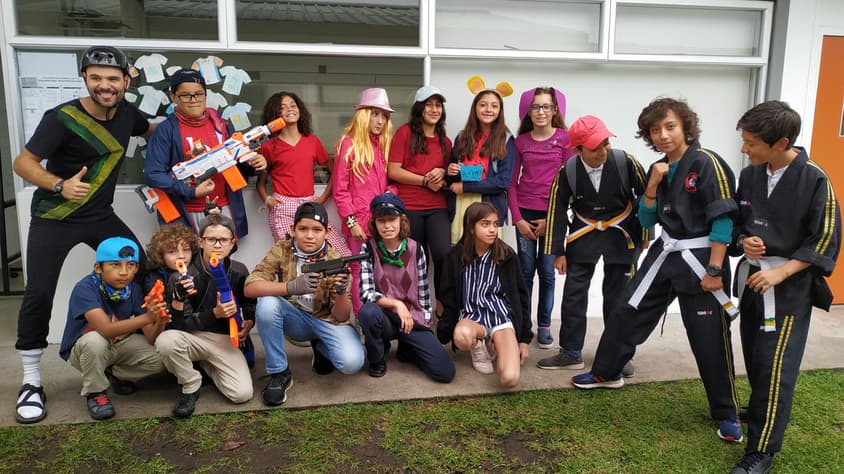 ​Including the vibrant outfits, Year 7 also completed some excellent work set by Miss D. Parker. Students had to create a diorama representing some aspects of the novel 'Lord of the Flies' by William Golding. Diorama's included desert island, the fire on the mountain and also characters from the book. It has been great to hear about all the praise this year group has been receiving from their hard work.
Ms. Polly Hall – Year 1B Teacher
In 1B we have spent the last few weeks learning about Ecuador. We have learned about the different regions of Ecuador, including the Amazon and the Galapagos Islands. We have even made our own erupting volcano!
During Saturday's Global Citizenship Day we built emergency shelters to use in case of earthquakes. We talked about why earthquakes happen in Ecuador and how to be prepared, and then the children made their own emergency shelters.
More recently the children have been presenting their homework projects, which were also about Ecuador. We have seen a wide variety of projects from news reports to recipe books and even some traditional clothing. The children have each other about volcanoes, regions of Ecuador, animals and lots of different Ecuadorian dishes. We have watched videos and sampled a lot of food. A great deal of effort has gone into these projects and we are all excited to see how next term's homework projects will turn out!
November 7th – Parent Teacher Conference day
November 11th – 14th – David Pottinger and Karl Wilkinson visiting
November 14th – 16th – Silver DofE Expedition
November 15th_ Year 13 Mock exams begin
November 16th – Bonfire Night
Emma Newman
Principal
Being BSQ – Primary Update
Welcome back to The British School Quito – we hope you all had a relaxing and enjoyable break with family and friends and are ready for the challenges ahead in the next seven weeks. We have a great deal happening over the next few weeks, including Parent Teacher Conferences (this Thursday: no school for students), trips out for Year 6 to the Wax Museum, Year 5 and 6 are going to visit Granja Urkuwayku, a visitor to Year 3 to discuss volcanoes.
Year 1 will be visiting the Water Museum and then of course our annual Nativity Performances from Reception, Year 1 and Year 2 (provisional dates are Tuesday 17th December and Wednesday 18th December). Please do check both the BSQ Newsletter and your child's Canvas or Tapestry page for up-to-date information about events and trips and do not hesitate to contact school if you are unsure of anything.
As we move into the second phase of the year, it is important to recognise that our students are increasingly able to learn independently and take more control of their own learning, regardless of which year they are in. As adults, we can support this development by progressively encouraging them to organise their learning and organisation of equipment. This may simple involve them packing their swimming bag and checking it afterwards to see if they have the correct equipment. You may ask them about their home learning and then check afterwards that they have completed in appropriately. And of course you can ask them many of the questions we shared a few weeks ago about their learning at school, which demonstrates to them that you have an interest in their development but also helps them organise their own thoughts and understanding.
We look forward to meeting many of you at the Parent Teacher Conference on Thursday – please do let us know if you are unable to make it on that day and we will endeavour to rearrange your appointment.
Star of the Week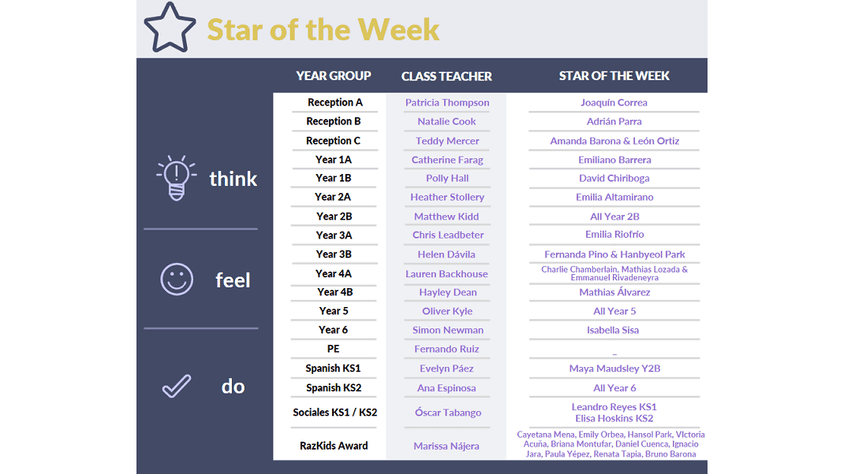 Marcus Madden
​Head of Primary
Being BSQ – Secondary Update
Spirit Week
​Spirit week was once again a huge success, with valuable funds raised for the Beyond Lagartococha CAS projects. Thank you to all the students and parents who participated in preparing costumes and baking cakes.
Hats
Even when it is grey and cloudy in the valley, the UV index usually remains high. As such, it is vital that students remain protected from the potential damage of the sun's rays. Please help us by ensuring that all students have a suitable sunhat for break, lunch, and PE.
Conferences
If you have yet to do so, please make sure that you sign up for the Secondary parent-teacher conferences. To do so, you'll need to follow the instructions in Mr. Ashfield's email to reserve each spot online. I hope to see you all at school on Thursday 7th November.
Jim Wild
​Head of Secondary
From the BSQ Counselling Team